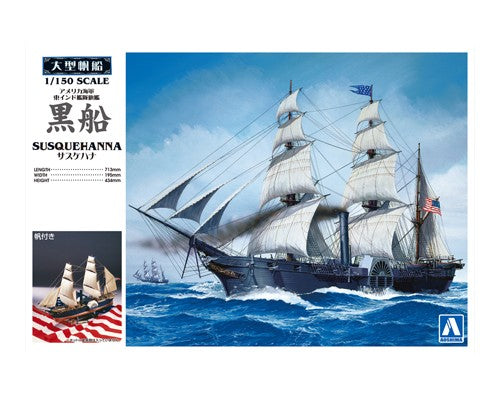 Aoshima 1/150 USS Susquehanna Sailing Flagship Kit
This Product Usually Ships In 2-3 Business Days
AOS-47101
---
The USS Susquehanna, a sidewheel steam frigate, was the first ship of the United States Navy to be named for the Susquehanna River, which rises in Lake Otsego in central New York and flows across Pennsylvania and the northeast corner of Maryland emptying into the Chesapeake Bay.
Construction started

:

 

1847

Beam

:

 

45′

Launched

:

 

April 5, 1850

Length

:

 

257′

Armament

:

 

2 × 150-pounder Parrott rifles

12 × 9 in (230 mm) Dahlgren smoothbore guns
1 × one 12-pounder rifle
Speed

:

 

10 knots (19 km/h; 12 mph)
A 1/150 model of Commodore Perry's flagship, known as the "black ship" to the Japanese on account of its hull color. This is the ship Commodore Perry arrived in Tokyo Bay aboard in 1853 and 1854 during the missions to open Japan to the West.

This is a reissue of a kit that was previously available from Imai Hobby (Aoshima purchased the firm's assets after its 2002 bankruptcy). This is an older kit, but the detail isn't bad, and with a good paint job, you'll have a very nice display piece. Sails are provided as vacuum-formed plastic sheets. Includes display stand. The model measures 28 inches long and 17 inches high when complete.
---
Share this Product
---
More from this collection