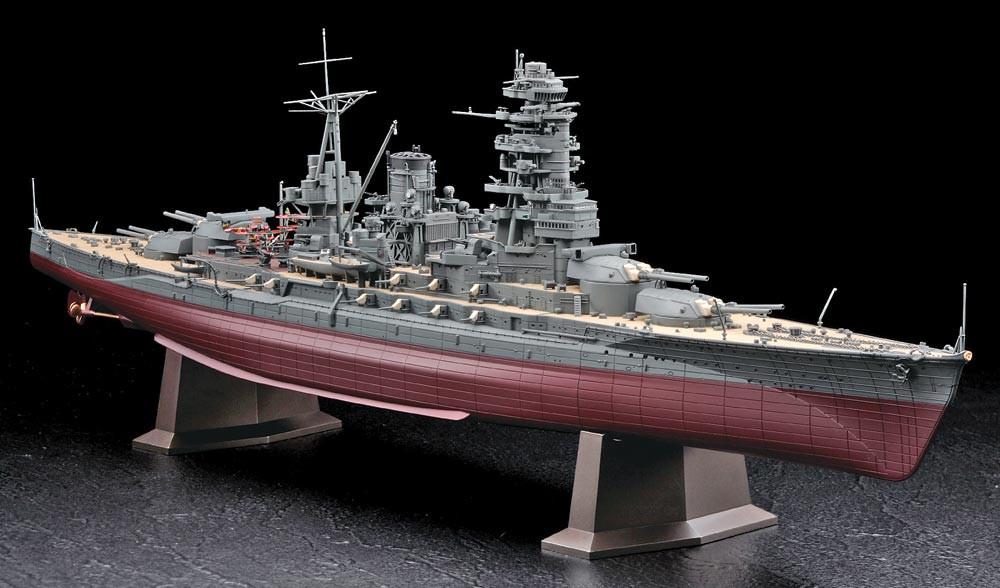 Hasegawa Ship Models 1/350 Japanese Navy Nagato Battleship Kit
Estimated Shipping: 2-3 Business Days
HSG-40024
---
During World War I the Imperial Japanese Navy (IJN) realized that in order to become a world power it was going to have to upgrade its fleet. This led to the so-called "8-8" Program whereby the IJN planned to build 8 fast battleships of the super dreadnought variety and 8 battle cruisers. It was hoped that this would put
Japan
on a par with any navy in the world with the possible exception of
Great Britain
. It was also hoped that it would put it ahead of the United States Navy, its most likely adversary in any future war.
The first of the battleships in the "8-8" plan was laid down at the Kure Naval Yard on
June 1, 1918
. Given the name Nagato, it was completed in 1927. At 32,720 tons it was among the largest warships in the world at that time. Unknown to the rest of the world its primary armament was 16'' guns, the first such warship to be built with this armament. The Japanese told the rest of the world that the Nagato class was only armed with 14" guns. This was not the last time that the IJN would deliberately deceive the world about the size and capabilities of its warships.
When war broke out, the Nagato was the flagship of the Combined Fleet. While
Nagato
was on hand for most of the major Japanese fleet actions of the Second World War, she only fired her guns at opposing ships once. She was one of Admiral Kurita's Center Force that attacked the U.S. Fleet off of
Samar
Island
in the Philippines in October 1944. During this battle she was also damaged but managed to retreat back to Japan with only slight damage. In Japan she had her mainmast and funnel removed to assist in camouflage while anchored at Yokosuka. Damaged again by bombs from U.S. carriers while at anchor in July of 1945, she finally was surrendered to Allied forces after the war.

She met her end at Bikini Atoll in 1946 as part of the U.S. post-war atomic bomb tests. She survived the Able bomb's airburst only to roll over and sink as a result of the Baker underwater detonation.
---
Share this Product
---
More from this collection