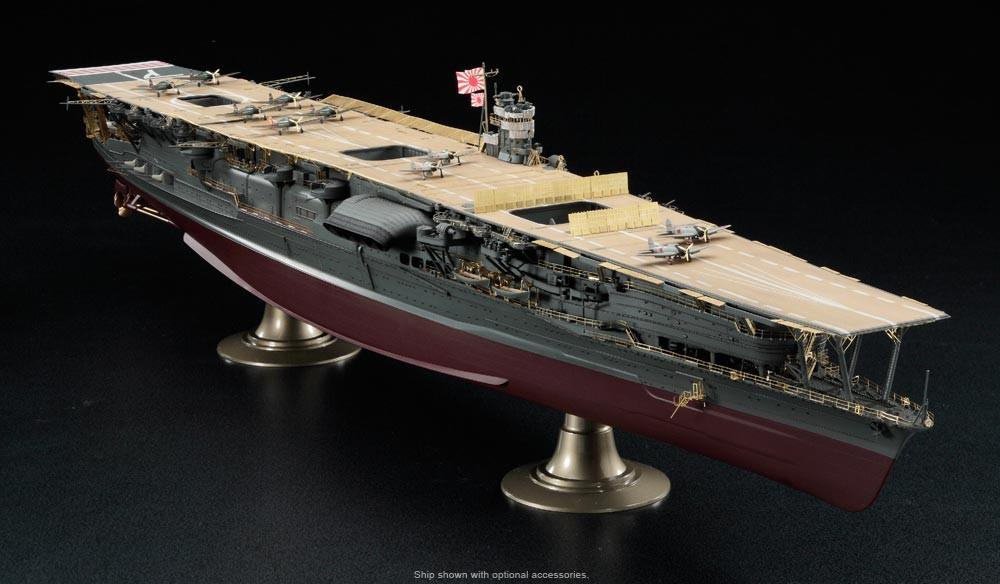 Hasegawa Ship Models 1/350 Japanese Navy Akagi Aircraft Carrier 1941 Kit
This Product Usually Ships In 3-4 Business Days
HSG-40025
---
Exquisitely detailed 1/350 scale assembly model kit of the World War II Japanese Aircraft Carrier Akagi. The Akagi took part in the Japanese surprise attack on Pearl Harbor (December 7, 1941) and launched waves of planes at Oahu. During the Battle of Midway, the Akagi was struck by one 1,000-pound bomb dropped from a U.S. Navy SBD Dauntless dive bomber, and the bomb set off explosions among the eighteen fully armed and fueled "Kates" that were being prepared for an air strike against the American carriers. The Akagi did not sink from the attack but was dead in the water, as damage control teams could not contain the flames consuming the carrier. Admiral Yamamoto ordered her scuttled by torpedoes from the destroyers Arashi, Hagikaze, Maikaze, and Nowaki.

This is a rare limited edition super detailed 1/350 scale model kit packed with incredible details and bonus features.
Features:
Clear-molded aircraft with stores (3 each Zero Type 21s and Type 99 dive-bombers plus 6 Type 97 attack bombers)
Separately molded flight deck elevators, brass anchor chain, historic reference booklet, 1/350 scale rolled color painting guide and detail drawings printed paper flag sheet, plus extensive decals for the hull, flight deck, ensigns, and aircraft.
---
Share this Product
---
More from this collection