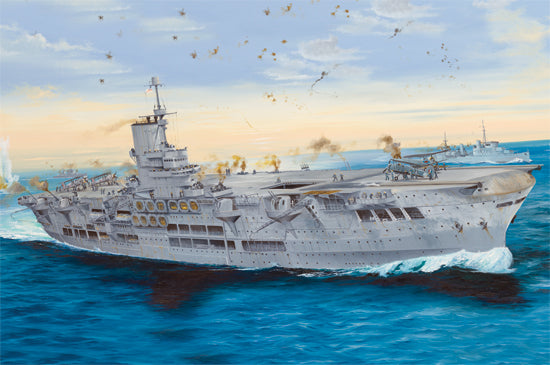 I Love Kit Ships 1/350 British Royal Navy Aircraft Carrier "HMS Ark Royal" 1939 Kit
ACCEPTING BACK ORDERS
ILK-65307
---
| | |
| --- | --- |
| Model Dimensions |     Length: 696.4mm Beam: 82.4mm  |
| Total Parts |     550+ |
| Metal Parts |     n/a |
| Etched Parts |     3 sprues |
| Film |     n/a |
| Resin parts |     n/a |
| Box Contents |     24 sprues, deck and, stand |
In 1934
, the

 
United Kingdom
 

approved funding for the construction of a new fleet aircraft carrier

 

and formulated a design plan within the limits of the

 
Washington Navy Treaty
 

on aircraft carriers.

 

Became the prototype of the British Navy's subsequent construction of aircraft carriers.

 

Construction began

 
in
 

September

 

1935.

 

It

 

was named " HMS Ark 
Royal
 

"

 

when it was launched in 1937 and

 
was
 

completed in

 

1938.

 

Considering

 

the harsh sea conditions

 

in the

 
Atlantic Ocean
, the ship's length-to-width ratio is 7.6:1, the hull uses a high freeboard, the bow is designed as a closed type, and the two-layer enclosed hangar is included in the hull structure, and the flight deck is used as a strong force Deck, this is the difference between the British and the US and Japanese designed aircraft carriers in the same period.

 

The ship's body adopts a large number of welding processes to save structural weight.

 

The flight deck is equipped with downwardly sloping outriggers on the bow and stern to maximize the area of ​​the flight deck. Two hydraulic catapults are installed at the front, with three elevators. The elevator has two platforms on the flight deck and two hangars Running the job separately is cumbersome.

 

The island-style superstructure with an integrated bridge and chimney is located on the starboard side.

 

Armor is laid on key parts of the side and lower hangar decks to withstand the attack of a 500-pound bomb.

During World War II, the battle for Norway was launched in April 1940, and the dive bombers of the HMS Ark Royal bombed a German light cruiser. During the war, the "Ark Royal" mainly covered the transport fleet in the Mediterranean. 
The most famous battle of the "Ark Royal" was to annihilate the German Bismarck battleship in May 1941. The torpedo bomber of the "Ark Royal" destroyed its rudder, and bought time for the British fleet to finally sink the Bismarck. 
On November 13, 1941, after carrying the aircraft to the island of Malta, the "Ark Royal" returned to Gibraltar 50 nautical miles and was hit by a torpedo fired by a German submarine.
---
Share this Product
---
More from this collection