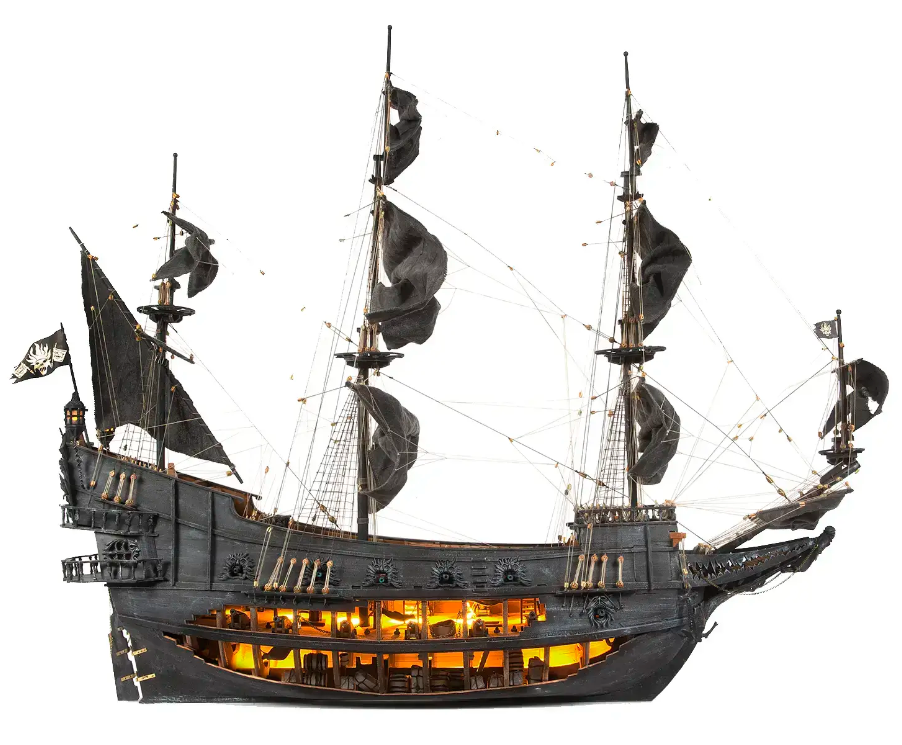 Occre 1/50 Flying Dutchman Ghost Pirate Ship w/Cutaway Hull (Advanced Level) Kit
This Product Usually Ships In 3-5 Business Days
OCC-14010
---
More than 500 different pieces to enjoy building the model.
Includes cast nameplate.
Includes the basic base.
Includes the boat's sails.
Single-lined boat hull with a side opening to reveal the contents inside.
Possibility of illuminating the interior of the hull and lanterns. With the

 

Led Lights Kit

 

Ref. 55010.
Numerous details inside the hull, complete cannons, ammunition, hammocks, merchandise, barrels, etc.
Ultra-realistic casting.
Step-by-step video tutorials.
Instructions in 5 languages.
HD photos step by step.
Parts list with measurements and materials.
IP sheet to identify the parts
Scale plans.
High-quality model.
Lifetime warranty.
Legend of the ship the Flying Dutchman
For centuries, the legend of the Flying Dutchman has captured the imagination. The story tells how the shadows of the damned, the ship, and its crew are doomed to wander the world's oceans for eternity without ever reaching land, all because of their captain. The fateful decision to sail in fatal seas. The legend has inspired the imagination of playwrights, poets, and painters. It has even become a feature of the popular "Pirates of the Caribbean" franchise, where the ship is known simply as the Dutchman and sails under the command of the fictional captain, Davy Jones.
Technical sheet of the model Flying Dutchman
Scale: 1/50
Width: 300mm
Height: 654mm
Length: 775mm
---
Share this Product
---
More from this collection