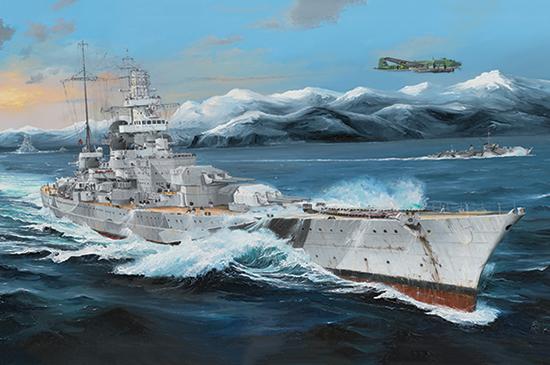 Trumpeter Ships 1/200 Scale German Scharnhorst Battleship Kit
Estimated Shipping: 2-3 Business Days
TSM-3715
---
THIS MASSIVE MODEL SHIP IS OVER 42" LONG!
The KMS Scharnhorst was the lead ship of the Scharnhorst class of fast battleships. The main armament of the Scharnhorst was nine 28cm guns in three turrets. The Scharnhorst was built by the War Naval Shipyard Wilhelmshaven, Germany, and launched on October 3, 1936. She entered service with the Kriegsmarine on January 7, 1939.
Scharnhorst and Gneisenau operated together for much of the early portion of World War II, including sorties into the Atlantic to raid British merchant shipping. During her first operation, Scharnhorst sank the auxiliary cruiser HMS Rawalpindi in a short engagement (November 1939). Scharnhorst and Gneisenau participated in Operation Weserübung (April–June 1940), the German invasion of Norway. During operations off Norway, the two ships engaged the battlecruiser HMS Renown and sank the aircraft carrier HMS Glorious as well as her escort destroyers HMS Acasta and HMS Ardent. In that engagement, Scharnhorst achieved one of the longest-range naval gunfire hits in history.
In early 1942, after repeated British bombing raids, the two ships made a daylight dash up the English Channel from occupied France to Germany. In early 1943, Scharnhorst joined the Bismarck-class battleship Tirpitz in Norway to interdict Allied convoys to the Soviet Union. Scharnhorst and several destroyers sortied from Norway to attack a convoy, but British naval patrols intercepted the German force. During the Battle of the North Cape (26 December 1943), the Royal Navy battleship HMS Duke of York and her escorts sank Scharnhorst.
Only 36 men were rescued, out of a crew of 1,968.
FEATURES:
1600+ Parts

One-piece hull made from two-directional slide molds




Deck pattern finely rendered.




Accurately detailed gun




6 pieces of photo etched frets for handrais,ladders , radar parts etc.




I

ncludes 2 Ar196 waterplane
---
Share this Product
---
More from this collection