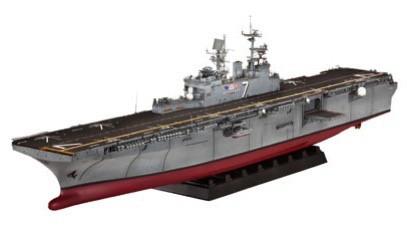 Trumpeter 1/350 USS Iwo Jima LHD-7 Amphibious Assault Ship Kit
Estimated Shipping: 2-3 Business Days
TSM-5615
---
Seventh in the line of WASP-class amphibious assault ships, the USS Iwo Jima LHD-7 and its sister ships enable the Navy and Marine Corps to perform amphibious assault and troop support as well as evacuation and humanitarian operations. At 844 feet, it is second in size only to an aircraft carrier, yet its mission is entirely different.
Built to accommodate nearly 2,000 Marines and more than a thousand sailors, the Iwo Jima was designed to transport, deploy and support Marines along any coastline in the world. To conduct varied missions, it houses a versatile air wing encompassing a full range of Navy and Marine Corps assault helicopters, AV-8B Harrier V/STOL "Jump Jets" and MV 22 Ospreys.
To ferry troops ashore, this rapid response LHD launches LCAC hovercraft and LCU landing craft from its Well Deck. Armament onboard includes tanks, towed artillery, Humvees, and personnel carriers. To assure everything moves smoothly, a full complement of flight deck tractors and cranes are at the ready.
Capable of 22 knots, the Iwo Jima has been deployed to transport Marines across the Mediterranean to Northern Iraq as well as to assignments off the coast of Liberia. Heeding calls for aid, it has traveled to the Gulf of Mexico and up the Mississippi River to supply disaster relief in the wake of Hurricane Katrina.
Features:

More than 1400 parts
Length: 29 inches
Realistic Flight Deck, Hanger Deck and Well Deck
Positionable aircraft elevators
Fully detailed bridge
Two sets of photo-etched parts
All structural differences compared to U.S.S. Wasp, mainly in the superstructure, have been taken into account.
Includes:
Helicopters

4 CH-46E Sea Knight helicopters
4 CH-53E Super Stallion helicopters
2 AH-1W Cobra gunships
2-SH-60B Sea Hawk helicopters

Aircraft

4 MV-22 Ospreys
2 AV-8B Harrier VTOL fighters

Landing Craft

2 LCAC assault Hovercraft
2 LCU landing craft

"Yellow" Gear

10 Flight deck tow tractors
2 Flight deck cranes

Armor/Personnel Carriers

2 M60 Patton tanks
2 M1 Abrams tanks
4 Humvee's
2 M198 towed artillery pieces
2 AAV7 "Amtrac's" Amphibious assault vehicles
2 LAV 8-wheel personnel carriers
2 Heavy trucks
---
Share this Product
---
More from this collection