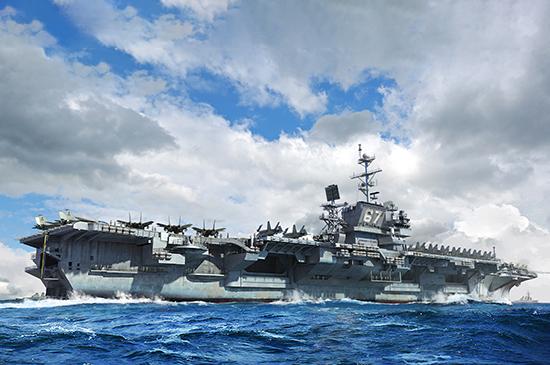 Trumpeter 1/700 USS John F Kennedy CV67 Aircraft Carrier (Variant of Kitty Hawk) Kit
ACCEPTING BACK ORDERS
TSM-6716
---
The aircraft carrier John F. Kennedy was the fourth ship of the US Navy's Kitty-Hawk class aircraft carriers and the last conventional aircraft carrier of the United States Navy. The aircraft carrier John F. Kennedy originally was going to use nuclear power, but in the end, it was powered by conventional fuels because of insufficient funding at the time of development. It differed from other class aircraft carriers in appearance, that is, the chimney was tilted outward.

The first mission of John F. Kennedy was to cruise the Mediterranean seven times in a demonstration of power to the Soviet Union. In November 1975, in the Mediterranean, the John F. Kennedy and the cruiser Bekana collided, causing some damage. On September 14 1976, while conducting a nighttime underway replenishment 100 miles (160 km) north of Scotland, the destroyer Bordelon lost control and collided with Kennedy, resulting in severe damage to the destroyer that she was removed from service in 1977. Earlier the same day, one F-14 Tomcat, following a problem with the catapult, fell off of the flight deck of John F. Kennedy, with AIM-54 Phoenix missiles in international waters, off the coast Scotland. Both crewmembers ejected and landed on the deck, injured but alive. A naval race (surface and submarine) followed between the Soviet Navy and US Navy to get back not only the plane (because of its weapon system) but also its missiles.
In the Gulf War of 1991, the John F. Kennedy entered the Red Sea and sent aircraft to attack Iraq. After the Gulf War, John F. Kennedy entered the Persian Gulf and sent its fighters to police the no-fly zone in southern Iraq. 
In October 2017, it was announced that Kitty Hawk would be disposed of by scrapping, leaving John F. Kennedy the last available carrier capable of conversion to a museum.
610+ Parts

Detailed Hull is a one-piece part

Detailed flight deck and hangar deck

Extensive photo-etched details included

Aircraft Wing includes:  E2C, EA-6B, HH-60H, S-3B, F/A-18C, F-14D

Complete ship and aircraft decal sets
---
Share this Product
---
More from this collection