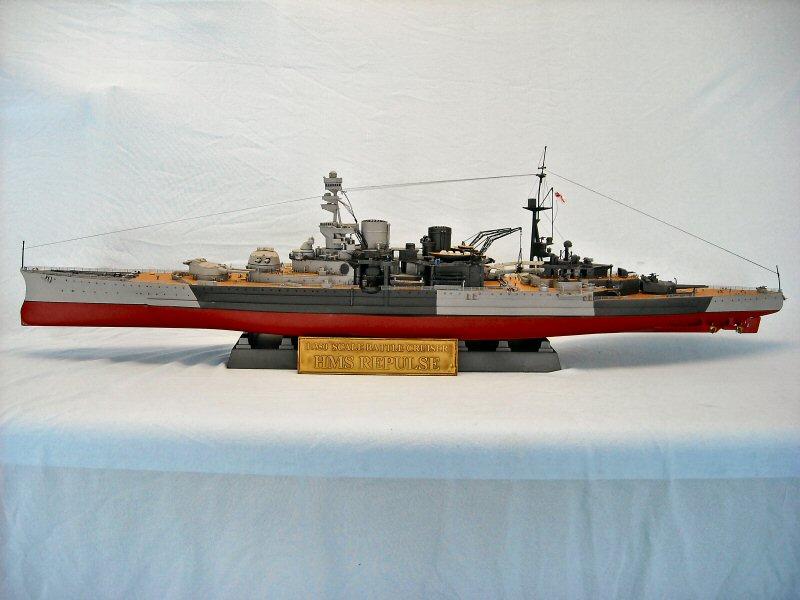 Trumpeter 1/350 HMS Repulse British Battle Cruiser 1941 Kit
This Product Usually Ships In 2-3 Business Days
TSM-5312
---
HMS Repulse was a Renown-class battlecruiser, the second to last battlecruiser built by John Brown and Company, Clydebank, Scotland, for the Royal Navy in1916. Considered a high-maintenance ship, she was given the unflattering nickname HMS Repair. Her sister, Renown, was nicknamed HMS Refit. Repulse's first re-build took place from 1918 to 1920. The last major refit was 1933-1936, when she received more armor, more anti-aircraft guns (2 pom-poms (40 mm) and 0.5 inch Vickers machine guns) and an aircraft catapult with two hangars. Initially, the aircraft were Blackburn Shark floatplanes (replaced by 1939 with Fairey Swordfish and again in 1941 by the Supermarine Walrus).

After the outbreak of the Second World War in 1939, Repulse operated in various missions such as hunting down German commerce raiders and escort duty for troop carriers between Canada and Britain. In January 1941, Repulse participated in the hunt for the German battlecruisers Scharnhorst and Gneisenau. In May, she took part in the chase of Bismarck. At the end of 1941, as the threat of war with Japan loomed ever larger, Repulse was detached to the Far East as a deterrent to Japanese aggression. Initially designated as Force G, this squadron was sent without an aircraft carrier to Singapore. Shortly after the outbreak of war in the Pacific on 8 December 1941, Repulse left Singapore with the fast battleship HMS Prince of Wales, and four destroyers known as Force Z, to try and intercept Japanese invasion convoys heading towards Malaysia.

On December 10, 1941, after failing to find any Japanese invasion forces, and turning south, the Force spotted Japanese aircraft. The fleet was attacked by 86 Japanese aircraft. Repulse Captained by Bill Tennant who managed to evade several torpedo attacks. However, Repulse's luck was not to hold out and she was caught by a skillfully synchronized Japanese pincer attack and hit by four or even five torpedoes in rapid succession. Repulse was fatally hit and soon listed to port in about six minutes. Repulse was sinking, and sinking fast, resulting in Tennant ordering abandon ship. Repulse finally rolled over and sank at 12:23.
---
Share this Product
---
More from this collection