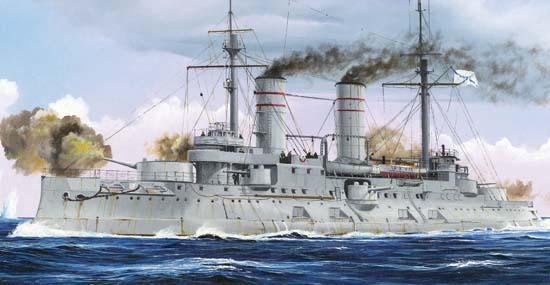 Trumpeter 1/350 Tsesarevich Russian Navy Battleship 1917 Kit
This Product Usually Ships In 2-3 Business Days
TSM-5337
---
"Tsesarevich" in May 1899 when the French Toulon shipyard began building. Huge battleship of the ship is built according to the latest ship standard: design standard displacement of 12,912 tons, 20 coal-fired boilers, power 16 500-horsepower, maximum speed of about 18, equipped with the people rather shocking four door 304mm gun, all in all its beautiful appearance combined with a first-class firepower and protection is indeed one worthy of the crown prince of higher status warships. 
1903 " Tsesarevich " was completed and joined the tsarist Russia a Pacific Squadron as flagship.

During the Russo-Japanese naval battle, "Crown Prince", hit the Japanese battleship "Mikasa". Subsequent damage forced open the back of Jiaozhou Bay
In 1914, the outbreak of World War I battle, "Tsesarevich "take on the mainstay of the Russian Navy in the Baltic Sea.

The main position on the more advanced" Petropavlovsk "alternative. Prince No. shipyard refurbishment to be bound by the command and then "Prince" has been used in the Baltic Sea with the German deal. 
The interim government after the fall, it was incorporated into the Soviet Red Navy, the " Tsesarevich " is technically obsolete, it has not been fully restored, the Soviet government it does not take any, so this "lonely prince" has been alone quietly moored in the bay. 1925 out of the Red Navy active duty, then to be sold is split into small pieces melted down.
---
Share this Product
---
More from this collection